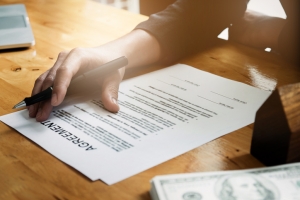 Divorces are tough on individuals and their families. Divorces expose individuals to the full spectrum of human emotions. For many, a divorce will be  the most difficult thing they have ever faced. ,
While a divorce may have you feeling unhappy, down, and depressed, rather than dwell on the negative impact it might be having on your life, try refocusing your attention on  positive outcomes  which should allow you to view your divorce in a different light. 
Set forth below are four positive outcomes of divorce, according to Dr. Gail Gross, Ph.D., Ed.D., M.Ed., some of which you may find will help you.
Divorce gives you the opportunity to self-reflect and self-heal.
When you take the time to self-reflect, you get the opportunity to consider why you married the person you did and what you will do in the future to avoid from getting into a relationship with the same type of person. Dr. Gross says that "By doing inner work, you can recognize and acknowledge your own patterns that led you to a dysfunctional relationship in the first place. By experiencing your authentic self, you will automatically build your self-esteem, depression will lift, and you are able to move into a happier and healthier lifestyle."
You can improve your health. 
If you are going through a divorce, it is likely something in the relationship  wasn't working which may have been causing you to experience physical or psychological harm. When you choose to "release yourself from an unhealthy partnership, you not only can become healthier mentally and physically, but [you] also add years to your life through happiness."
You might gain self-confidence and empowerment. 
At the outset of your divorce, you may have felt the exact opposite of  someone radiating with confidence. Once you accept the inevitability of the divorce, you can start to work on "rebuilding your self-esteem, your sense of self, your capacity for intimacy, and your creative energy." Many individuals in a committed relationship often invest more into their partner than they do to themselves, resulting in them losing some, if not all, of the power in the marriage. But, once you separate and your divorce is finalized, Dr. Gross says you can take back this power and focus on your "authentic self."
You get to show your children what a healthy relationship looks like. 
It takes two to make a marriage and only one to ensure a divorce. Regardless of why your marriage didn't work out, by ending   a relationship that isn't healthy, you open up the opportunity for new relationships with the opportunity for your children to see a parent in a happy, productive, loving relationship.   As well,  you are also modeling for your children strength,  your ability to overcome adversity and how to come out of something negative with something better and more fulfilling.
While you are going through a divorce or separation, it is essential that you not only have a positive mindset but that you are also being represented by one of the best divorce law firms in Rockville, MD. At Barkley & Kennedy, our MD divorce lawyers understand the impact a divorce can have on you, your children, and even your family which is why we dedicate ourselves to your case and work with you each step of the way until your divorce is finalized. No matter what questions or concerns might arise, our attorneys will be there to provide you with the answers and advice you are seeking.
Therefore, if you would like to schedule a time to speak with one of our experienced Rockville, MD divorce attorneys and find out why our clients are so satisfied with our legal services, contact us today by calling 301-251-6600.
You can reach Barkley & Kennedy at:
51 Monroe Street, #1407
Rockville, MD 20850
301-251-6600
Website: www.barkenlaw.com